If you have one or multiple missing teeth, we can help. We offer restorative dentistry solutions for patients with lost permanent teeth. One of the most effective options to replace missing teeth are dental implants. At Main Line Family Dentistry, we offer dental implants to patients in Bryn Mawr, PA. Dental implants are small titanium posts that an oral surgeon places in the jaw bone beneath the gums. A single implant consists of a titanium post, abutment, and dental crown. Dental implants may also be used to secure a dental bridge or denture.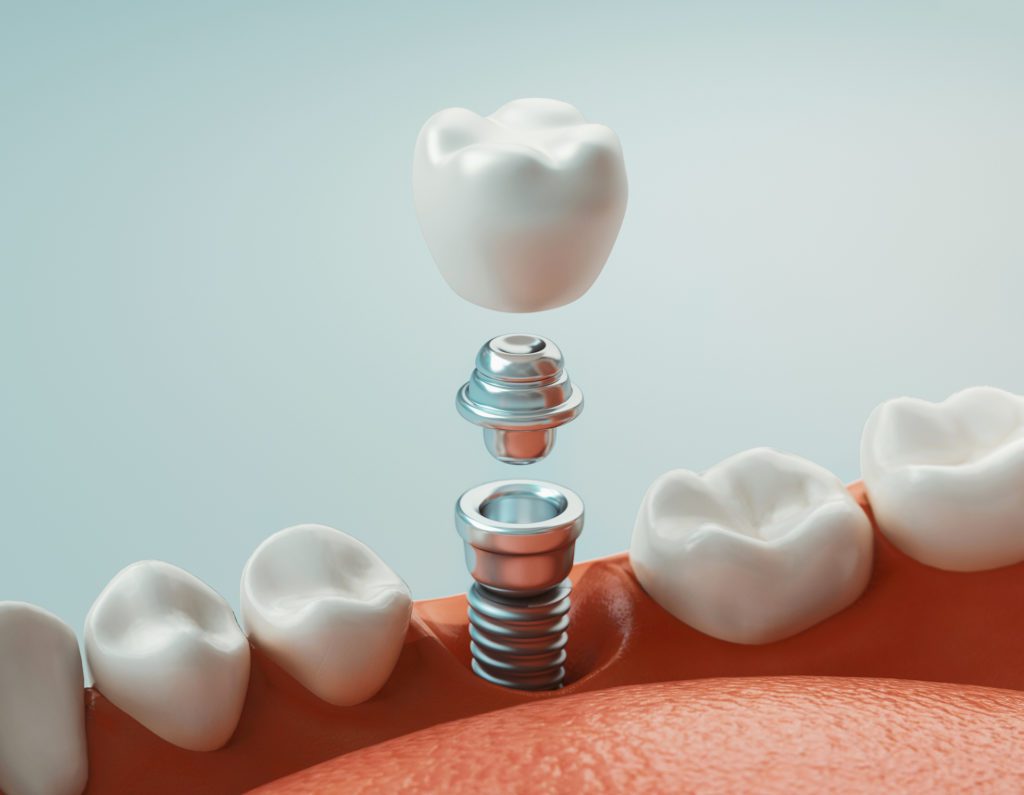 Q&A: Dental Implants in Bryn Mawr, PA
Learn more about treatment with implants as we answer common questions about this restorative option:
Am I a candidate for dental implant treatment?
We make sure that patients are in good overall and oral health before their implant treatment. Patients need to have enough jaw bone tissue to support their implants. We will recommend ridge augmentation or bone grafting treatments for patients who have little to no healthy jaw bone tissue. In addition, we can provide dental extractions or periodontal therapy for patients with tooth or gum decay.
How long do dental implants last?
Dental implant posts are permanent. Although your tooth crown, dental bridge, or denture may need to be replaced after many years, the implant posts stay in the mouth. During the healing process, the dental implant post fuses with the jaw bone and becomes a part of the mouth.
Can I receive implants for my removable bridge or denture?
Yes, if you have a removable dental bridge or denture, we recommend dental implants for a more secure bite. We can help plan your dental implant treatment if you would like to support an existing restoration.
Is dental implant treatment painful?
The oral surgeon uses local anesthesia and sedation during your dental implant surgery. You will not feel any pain during your surgery. While you're recovering, we will prescribe pain medication to combat pain and sensitivity at the implant site. After about a week of recovery, many patients will no longer feel discomfort or pain.
How do I clean my dental implants?
To clean your dental implants, use a soft-bristled toothbrush and non-abrasive toothpaste. Gently brush around your implant crowns. You may also use an interdental brush or floss to clean hard-to-reach areas. It is difficult for food to get beneath your crown, but it is still important to clean around your implant crowns to prevent bacteria buildup.
Can I receive a dental implant following my tooth extraction?
Yes, we recommend that patients wait two to three months after their tooth extraction to receive implants. The tooth socket needs to fully heal before restorative treatment. We will also ensure that patients are fully healthy before we plan their implant treatment.
Contact Our Dental Office Today
Do you have remaining questions about implant restorations? Call us at 610.601.2978. You may also schedule a dental appointment with our team online. We look forward to seeing you at your next dental visit!