At Main Line Family Dentistry, we offer general dental care that provides preventative care to our patients. During routine appointments, we provide dental cleanings and exams. In our office, we also provide root canals and dental fillings are routine treatments that also prevent the spread of infection. A root canal procedure removes decay from within the tooth. Following a root canal, we provide dental fillings. Fillings seal and preserve the tooth. A variety of treatments are a part of general dentistry in our Bryn Mawr, PA office. Discover more about how you benefit from these treatments here.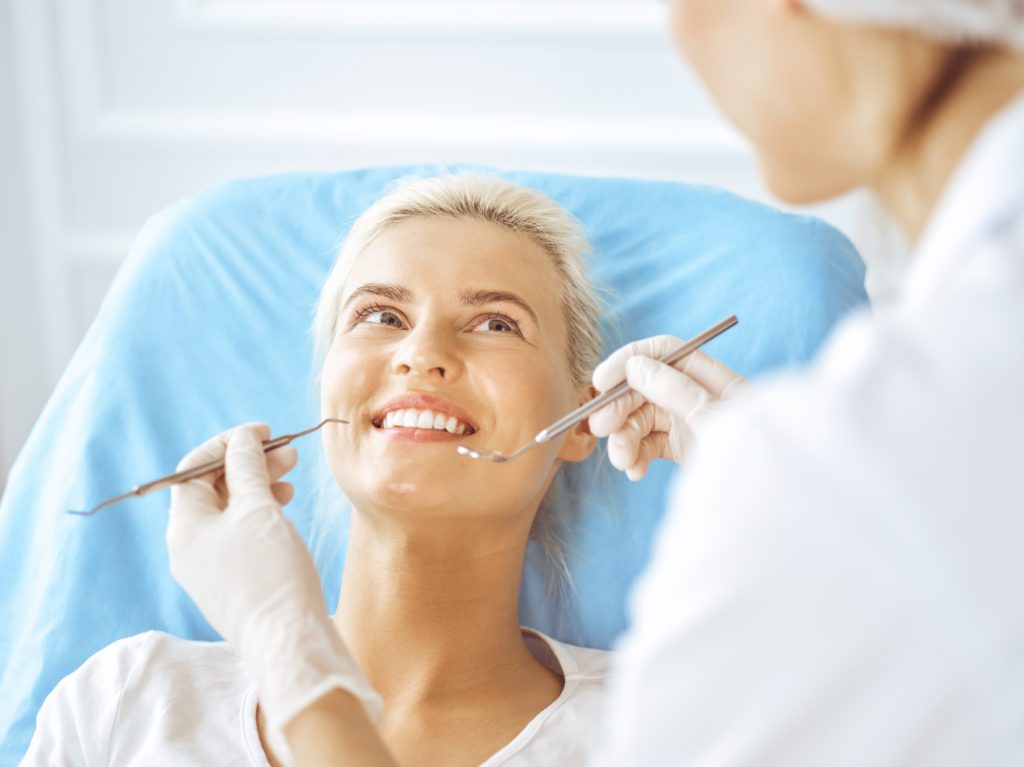 General Dentistry in Bryn Mawr, PA
With our general dental solutions, our team can prevent future oral health issues and maintain the current smile:
Custom Mouthguard
Do you or your child need a custom sports mouthguard? Call Main Line Family Dentistry. Our custom-made sports mouthguards protect the teeth and braces from damage. With a properly-fitting mouthguard, our patients prevent the need for future cosmetic or restorative care. Unlike store-bought mouthguards, our custom-made mouthguards conform to the smile for a secure fit.
Emergency Dentistry
Please get in touch with our dental office in the event of a dental emergency. Our professional dental team can address toothaches, broken dental restorations, and missing teeth with urgent dental care. We can prevent further tooth damage or loss if you call us for immediate treatment. If you have any
Family Dentistry
We provide family dentistry services for patients in Bryn Mawr and Haverford. For pediatric patients, we offer fluoride treatment and dental sealants. As patients age, we can provide restorative and cosmetic care. Our dental office works with families to find the best dental schedule to work for their busy lives.
Tooth Extraction
Dental extractions remove overcrowded, impacted, and impacted teeth. Most patients will need their wisdom teeth extracted to prevent tooth damage or overcrowding. Removing problem teeth prevents crooked and injured teeth and tooth pain and infection.
General Dental FAQs
Do you want to discover more about your general dental options? Read answers to these popular questions about our general treatments:
Can I get a dental crown after a root canal?
We will sometimes recommend a dental crown for patients after their root canal treatment. Tooth crowns fully cover each tooth and add strength and support to worn or weakened teeth. If you have a dental filling, but your tooth is still worn or weak, a dental crown will help. Crowns also create a more balanced bite.
Are dental extractions painful?
Although many patients may think that their extraction treatment is painful, we make sure that patients are comfortable during their procedure. Ultimately, tooth extractions relieve tooth pain and prevent infection or impaction.
How often should I replace my sports mouthguard?
Patients typically need to replace their sports mouthguard every sports season. This is because as mouthguards lose their thickness, they become less effective. Additionally, if your mouthguard is warped or deformed, our dental office can work with you to craft a replacement. Children may also need new sports mouthguards as they lose their baby teeth and their adult teeth erupt.
Contact Our Dental Office
Are you looking for a new dentist? Request a dental consultation with the dental team of Main Line Family Dentistry on our website. You can also call us for care today at 610.601.2978. Our dental office serves patients in Bryn Mawr and Haverford, PA. At your next dental visit, please let our dental team know if you have questions or concerns. They will always be glad to help.