Do you want to renew your smile? Restorative dentistry is an excellent way for patients to address various dental problems. For example, patients can replace missing permanent teeth, address bite disorders, reverse gum infections, and protect damaged teeth with restorative care. The Main Line Family Dentistry team offers comprehensive restorative dentistry services to patients in Bryn Mawr, PA. Restorative dentistry focuses on the smile and the patient's overall health. For example, gum disease and tooth infections are linked to heart health.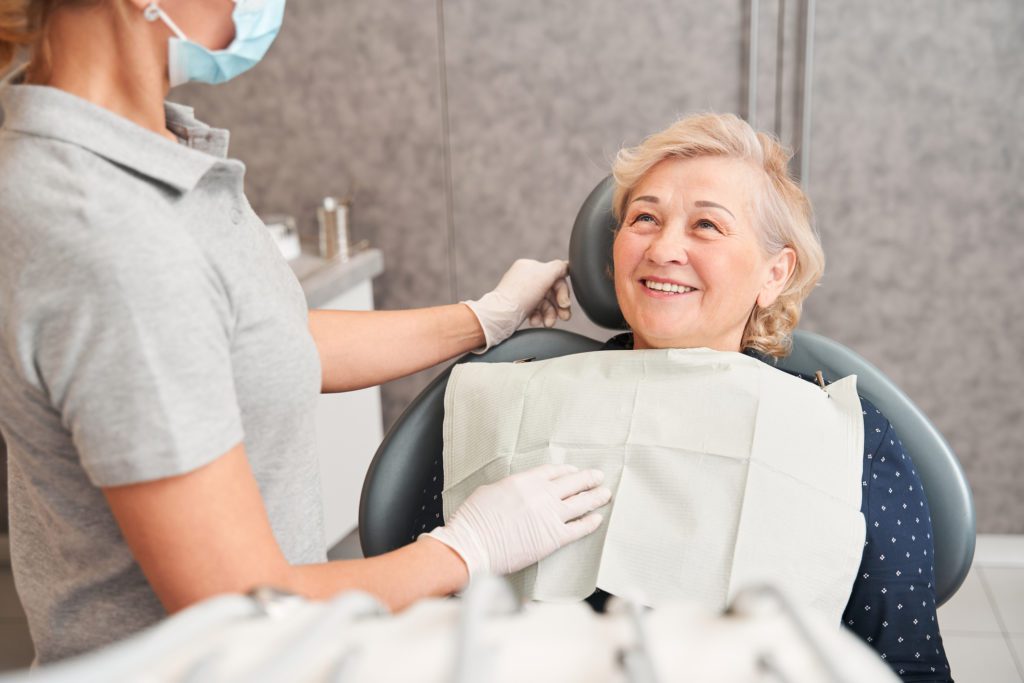 Restorative Dentistry in Bryn Mawr, PA
Our restorative dental services create healthier and more functional smiles:
Dental Bridge
A dental bridge is a dental prosthetic that replaces two or more consecutive missing teeth. Bridges are traditionally secured by crown-capped teeth. However, traditional bridges do not support the health of the gums or remaining teeth. Implant-secured bridges last longer and allow patients to bite and chew comfortably.
Dental Crown
A tooth crown is a cap that fully covers single teeth or dental implants. Our dental crowns are made of porcelain ceramic, a reflective material that looks and feels like natural teeth. Porcelain ceramic is not only aesthetically pleasing but also strengthens natural teeth.
Dental Implants
Dental implants are a versatile restoration that replaces missing teeth at the socket. A dental implant is a titanium screw, abutment, and prosthetic. Patients can restore a single missing tooth with an implant capped off with a dental crown. We also provide implant-secured bridges and dentures to replace multiple lost teeth.
Full and Partial Dentures
Dentures & partials are the best options for patients to replace rows or arches of missing teeth. Unlike removable dentures, our implant-secured dentures offer a long-lasting restoration. Removable dentures need messy adhesives to stay in place. Implants support teeth at the root.
Gum Disease Treatment
We offer periodontal disease treatment for patients with gum disease. Gum disease is a common but highly damaging dental problem caused by harmful bacteria build-up in the mouth. These harmful bacteria feed on food debris left in the mouth. Over time, the bacteria's digestive acids irritate and erode the gums. We offer scaling and root planing to remove harmful bacteria in the mouth.
TMJ Treatment
Temporomandibular joint disorders (TMD) are caused by the joints that aid in biting and chewing. Damage or stress to these joints causes pain and sensitivity in the teeth and face. We provide TMJ treatment to alleviate jaw pressure, prevent tooth wear, and stop chronic headaches.
Restorative Dentistry in Bryn Mawr, PA
Discover more about your restorative options with answers to these commonly asked questions:
What are the early signs of gum disease?
Gum disease can begin with swollen and irritated gums. Patients with gingivitis, or gum inflammation, may notice their gums bleeding when they brush and floss their teeth. If you have sensitive, painful, or swollen gums, please contact our office for care.
How long do dental implants last?
Dental implants are permanent. During osseointegration, the dental implants fuse with the jaw bone tissue. If the dental implants heal properly, they become a long-lasting part of the smile. Even if dental crowns, bridges, or dentures need replacement over time, implants stay in the mouth.
Can I reverse my TMD symptoms?
Patients with mild TMD symptoms benefit from relaxing their jaw or treating their stress or anxiety. In addition, learning jaw exercises and going on a soft diet can rest the jaw joints and muscles for several weeks. However, if you have persistent symptoms that are not easily treated, contact our office. We will determine the best treatment methods for your symptoms.
Restore Your Smile
Call Main Line Family Dentistry for restorative care today at 610.601.2978. You may also schedule a dental consultation with our dentists on our website. Our dental office serves patients in Haverford, Bryn Mawr, and the surrounding areas. Please let our team know if you have any questions or concerns at your next dental visit. They will be happy to help.