The dentists at Main Line Family Dentistry are passionate about helping patients of all ages. Dr. Anthony Zalis, Dr. Brian Shepanski, Dr. David Robbins, and Dr. Joseph Foote are dedicated to high-quality care using modern technology and techniques. Our dental team provides comprehensive dental services in Bryn Mawr, PA, and Haverford. As a result, patients can receive the dental care they need with various treatment options under one roof. From routine cleanings and x-rays to oral surgery and restorative treatment, we can help patients improve their oral health and wellness.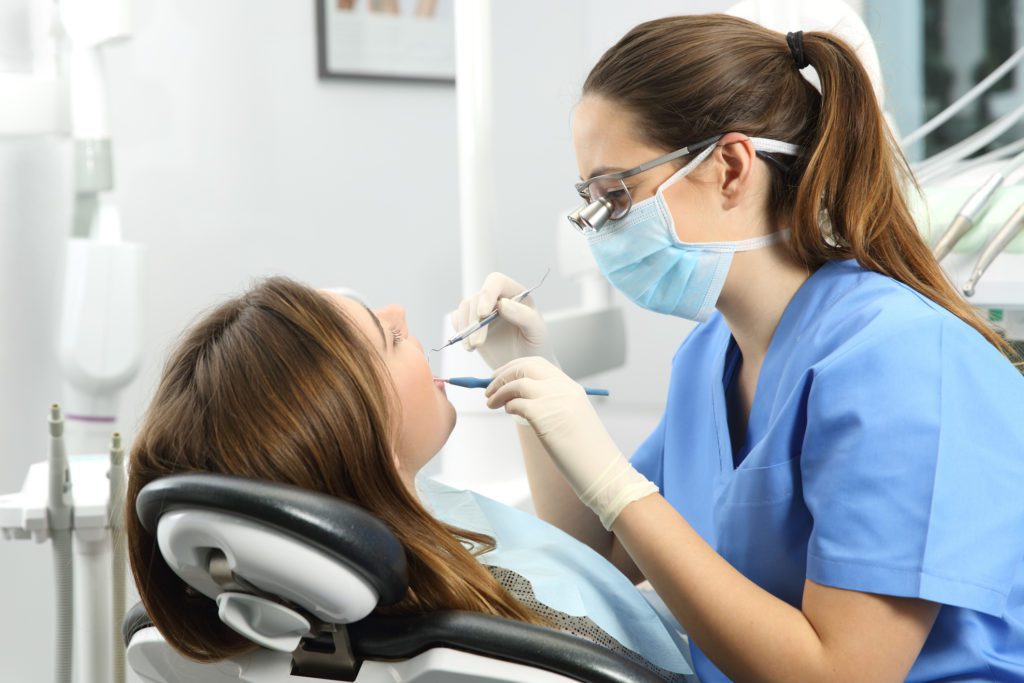 Dental Services in Bryn Mawr, PA
Our comprehensive dental services address a variety of dental problems with comfortable care. You can discover more about each of our dental treatments here:
Cosmetic Dentistry
With cosmetic dental care, we can improve the look and health of the smile:
Invisalign: With Invisalign treatment, patients can straighten crooked teeth with clear aligners. These aligners are removable, so patients can quickly eat and brush their teeth.
Porcelain Veneers: Dental veneers are thin, porcelain ceramic shells we bond to teeth. Veneers also cover tooth discoloration and damage.
Teeth Bonding: Similar to veneers, bonding can cover tooth gaps, crooked teeth, tooth stains, and dental injuries. However, dental bonding is more economical for more minor cosmetic imperfections.
Teeth Whitening: Our take-home teeth whitening treatment uses custom-made trays and high-quality whitening gel. With this treatment, patients can brighten their smiles in the comfort of their own homes.
General Dentistry
Our general dental solutions maintain and preserve the teeth and gums:
Custom Mouthguard: We provide sports mouthguards that protect the teeth against injury or loss. Compared to store-bought mouthguards, our sports mouthguards easily stay in the mouth. The mouthguards also fit comfortably because they are custom-made.
Emergency Dentistry: Have you just lost a permanent tooth? Do you have severe tooth pain? Call us for urgent dental care.
Family Dentistry: Our dental office provides children's dentistry treatments and cosmetic and restorative options for adult patients. Contact us for family dentistry in Haverford and Bryn Mawr.
Tooth Extraction: We can remove infected, impacted, or overcrowded teeth with extraction treatment in our office.
Restorative Dentistry
With restorative dental care, we can renew our patient's oral health:
Dental Bridge: Patients can restore two or more consecutive missing teeth with a dental bridge. Compared to traditional bridges, implant-secured bridges provide a more durable and longer-lasting option.
Tooth Crown: A dental crown is a cap that fully covers single teeth. Our porcelain ceramic crowns cover dental implants, damaged teeth, or weakened teeth.
Dental Implants: Dental implants can secure a tooth crown, dental bridge, or denture. They are small titanium posts that fuse with the jaw bone for a permanent, stable restoration.
Dentures & Partials: Our implant-supported dentures replace rows and arches of lost teeth. In addition, implant dentures do not use adhesives or require regular replacements compared to traditional dentures.
Gum Disease Treatment: We recommend deep cleaning treatments, antibacterial rinses, and oral surgery for patients with gum disease. Common signs of gum disease to look out for include bleeding, swollen, red, and irritated gums.
TMJ Treatment: Jaw pain, tooth wear, and teeth clenching and grinding are common TMJ symptoms. Our dentists can treat TMJ disorders with customized nightguards. We will also recommend physical therapy to relax the temporomandibular joints.
Contact Our Dental Office Today
Are you looking for a new dentist? Schedule a dental consultation with the team at Main Line Family Dentistry today. You can also call us at 610.601.2978. Our dental office serves patients from Haverford and Bryn Mawr, PA.
Do you have any questions for us? Please let our dental team know at your next dental visit. They will be glad to assist you.