Are you missing multiple rows of permanent teeth? Do you need to replace whole arches of lost teeth? We can help. The dentists at Main Line Family Dentistry provide restorative dental treatment with dentures in Bryn Mawr, PA. Dentures may be full or partial. Partial dentures restore several teeth in an arch, while full or complete dentures replace all of the teeth in an upper or lower arch. Replacing these teeth helps patients speak, eat, and live comfortably with a durable, new set of teeth. Our dentures feel just like natural teeth and use porcelain ceramic that reflects light similarly to tooth enamel.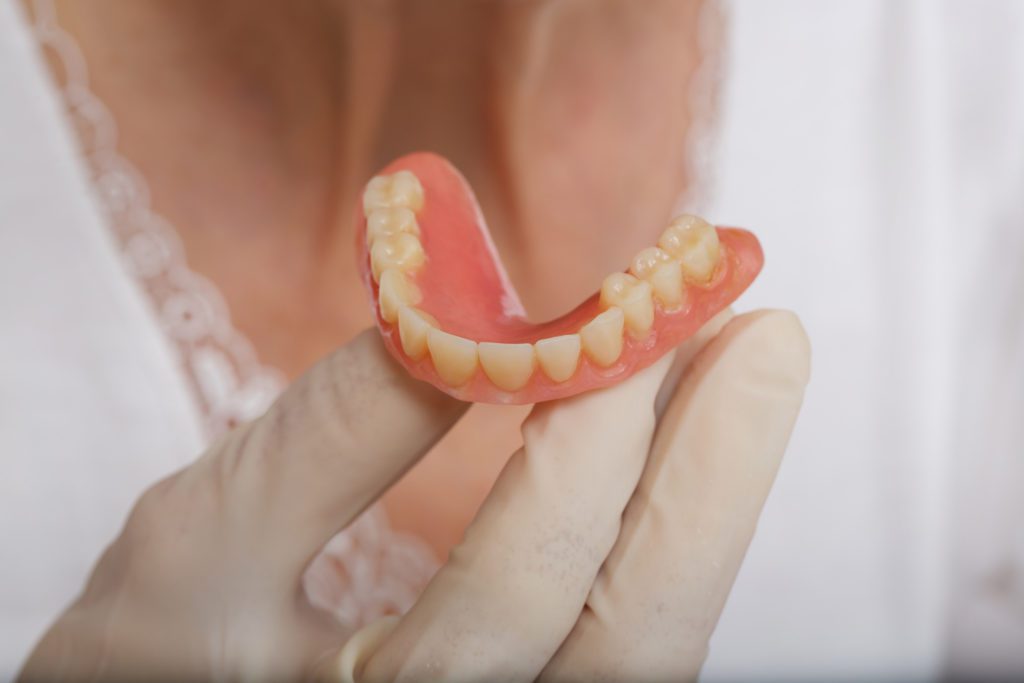 Why Replace Missing Teeth?
Patients with multiple missing teeth are more likely to develop these problems:
Speech issues
Difficulty biting and chewing
Facial sagging
Tooth decay
Gum disease
Bone loss
Restoring lost permanent teeth can improve the look and function of the smile. Dental implants can also add stability and strength to fully secure your denture, just like natural teeth.
Traditional vs. Implant Dentures in Bryn Mawr, PA
Traditional dentures are removable. They are typically held in place with adhesive. However, these adhesives can be messy and do not fully stabilize the denture or support the gums beneath the prosthetic. Because removable dentures lay on top of the gums, they can often slip and even irritate the gum tissue. Dental implants provide stability for dentures. Implants replace teeth at the socket and create stable, strong restorations.
To begin treatment for patients with removable or implant-secured dentures, we take impressions. We send these dental impressions to a dental lab where technicians create the denture prosthetic. For patients who want implant-secured dentures, we will coordinate the implant surgery with an oral surgeon. The surgeon places the implants in key areas of the smile beneath the gums. During a three to six-month period, the implant posts fuse to the jaw bone. Once the implants are fully healed, we attach the permanent dentures on top of the implants.
Renew Your Smile Today
Do you have arches of lost teeth? Restore the function and aesthetics of your smile today. Request a dental appointment with our professional dental team online. You can also call us for a consultation today at 610.601.2978.