Do you have crooked teeth or a misaligned bite? Are your misaligned teeth creating an unbalanced bite? Try cosmetic dental treatment with Invisalign today. Invisalign is a modern alternative to metal braces that uses clear aligners to straighten the smile. These aligners are also custom-made to fit each patient. The dentists at Main Line Family Dentistry offer Invisalign in their Bryn Mawr, PA office. They collaborate with patients to determine their candidacy for treatment. We recommend Invisalign for teens and adults with mild to moderate orthodontic problems.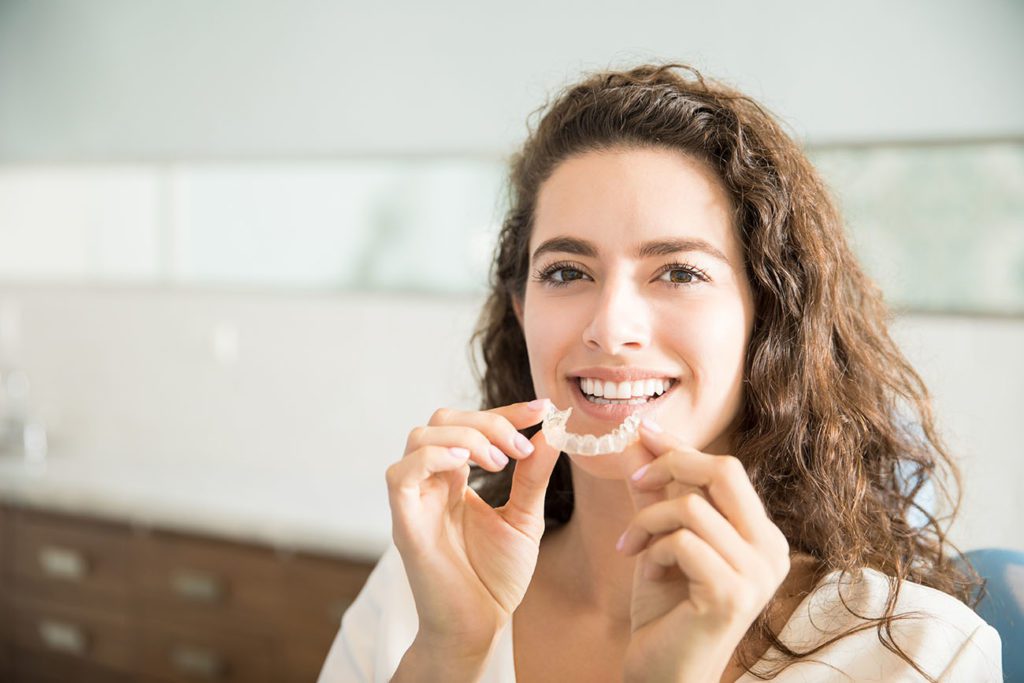 Treatment with Invisalign in Bryn Mawr, PA
Before treatment, we take scans of the teeth. These scans create images of the teeth that we use as a blueprint for treatment. Next, we send impressions of the smile to a dental lab, where technicians create a series of clear aligners. Once the aligners are complete, we will make sure that they fit correctly. You will wear each pair of aligners for two weeks. Then, you will switch them out for a new pair. Each pair of aligners is different to shift your teeth into a straighter position.
Invisalign care and maintenance are an important part of your home routine for your clear aligners. Remove them before you eat or drink anything other than water to care for your aligners. Then, brush your teeth before you place the aligners back in your mouth. When the aligners are not in your mouth, please keep them in their case. You may also soak your aligners in a denture or mouthguard cleaner once a day for 30 minutes. Caring for your aligners keeps them clear and clean.
Invisalign FAQs
Learn more about Invisalign treatment with answers to these popular questions:
Do I need Invisalign if I only have one or two crooked teeth?
We will not usually recommend orthodontic treatment if patients only have one or several crooked teeth. However, if you have cosmetic problems with misaligned teeth, you can try porcelain veneers or dental bonding treatment.
How does Invisalign compare to traditional braces?
Metal braces use wires and brackets to straighten the smile. At routine appointments, orthodontists tighten the brackets, which can cause tooth soreness or sensitivity. With metal braces, patients need to avoid hard and crunchy foods and clean between their wires. Invisalign aligners use clear, removable aligners that realign teeth over time. Because the Invisalign aligners can be removed, patients can eat without dietary restrictions. Additionally, Invisalign provides discreet treatment because the aligners are clear.
When will I complete my Invisalign treatment?
Although Invisalign typically takes 12 to 18 months, every patient is different. Your treatment time will depend on your malocclusion or your uneven bite. In addition, patients who take care of their aligners will easily stay on track to complete their treatment in a timely manner.
Request a Dental Appointment
Are you interested in a straighter smile? Call for Invisalign treatment at 610.601.2978 or schedule a dental consultation with our dental team on our website. Do you have any further questions? Ask us on your next visit.